Yawl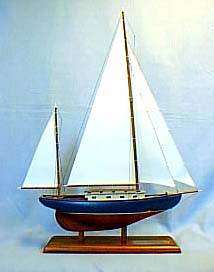 Classic Sailing Yawl
History of the Yawl
The Yawl rig can be seen in every corner of the yachting world and is used to a great extent on pleasure craft. The true "yawl" is the Yarmouth yawl used in England on the north coast and is descended from the Scandinavian "yol."
| | |
| --- | --- |
| Length overall | 36' |
| Beam | 9' 6" |
| Draft | 4'9" |
The classic yawl is a fore-and-aft rigged boat, with the main mast stepped forward and a small mizzen mast stepped in the stern aft or behind the rudder-head. The yawl is very closely related to the ketch-rig. Today the only way the yawl and ketch differ is in the placing of the mizzen-mast, aft of the rudder-head on a yawl and forward of the rudder-head on the ketch.
Our Model
This model is a beautiful example of a classic 36 foot yawl pleasure sailing yacht under full sail. The hull is maple with the bottom finished with a light stain and gloss varnish and the top side is a deep blue with a white waterline stripe. The cabin has a light cream color on the sides with a gray top. Hatches, handrails, and other deck hardware are natural mahogany. The model is mounted on a maple finished base with brass nameplate.
Model Measurements
| | |
| --- | --- |
| Length overall | 13" |
| Height | 17" |
Return to Piel Craftsmen Home Page