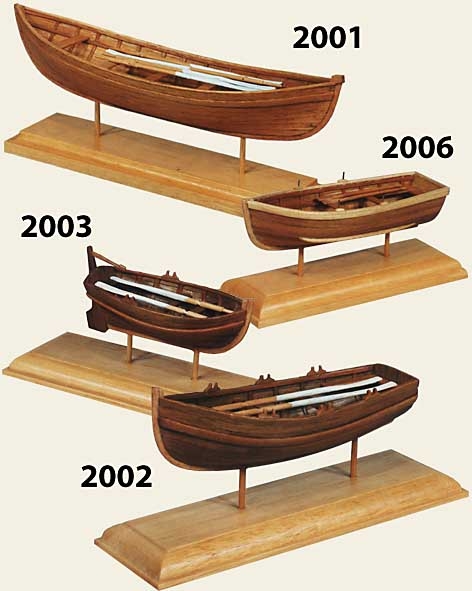 Ships'Boats, 17th & 18th Centuries These ships' boats can be built to different scales. The scale is easily changed by setting the initial plank above, on, or below the line of the plaster form, as well as by changing the number of thwarts (seats). Frames can be added to the hull by drilling extra holes for same. Hull can be sanded to a different form. Whaling yawl based on 1750 Chapman drawing.
Generic Ships' Boat

#2001 Sold Out
#2003 Sold Out


# 2006 - Scale 1:35 -1:50, Length 3.69", Width 1.27", Height .71" . . .List Price: $28.00
Clearance Price: $10.00
Dingy based on a Chapman draft
# 2002 - Scale 1:35 -1:50, Length 3.85", Width 1.31", Height .79" . . . List Price: $28.00
Clearance Price: $10.00
Ships'boats, 18th & 19th Centuries
These ships' boats that can be built to different scales which is easily changed by setting the initial plank above, on or below the line of the plaster form, or by changing the # of thwarts (seats). Frames can be added to the hull by drilling extra holes for added frames. Hull can be sanded to a different form.
Captain's Barge Rowed vessel usually used for courier services & transporting officers.

# 2004 - Scale 1:35 -1:50, Length 6.75", Width 1.47", Height .95" . . List Price: $30.00
Clearance Price: $10.00

Lifeboat or Large Cutter This boat type has been used as a lifeboat since about 1850 and is still in use aboard modern vessels. Can be equipped with mast and sails # 2005. Scale 1:35 -1:50, Lgth 6.36", Width 1.99", HT 1.07"
List Price: $31.00
Clearance Price: $10.00

19th Century German Navy Ships' boats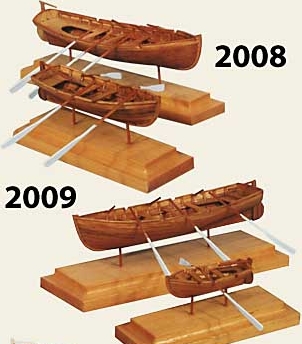 These models were developed from original shipyard drawings. Shown are major types of small craft used by the German navy during the 18th & 19 centuries. These boats were built at various ship yards up to World War II. At a scale of 1:100, it's nearly impossible to build accurate models of small boats as frames would be about 0.4 mm thick & frame spacing would be about 3mm. We've selected a compromise that is possible to work with and acceptable. We space 1.5mm frames at 6mm. Kits 2008 & 2009 each contain two boats.

Jolly and Cutter (Class 1)
# 2008 - Scale 1:100, Length 2.66", Width .91", Height .60", - smaller model, Length 4.17", Width, 1.23", Height .60", kit
List Price: $39.00
Clearance Price: $12.00

Dingy and Rowing Pinnace (Class 1)
# 2009 -Scale 1:100, Length 3.97", Width 1.19", Height .48", - smaller model, Length 1.71", Width 0.44", Height 0.36", kit . . .
List Price: $39.00
Clearance Price: $12.00